In pursuit of a throwback Mighty Ducks of Anaheim jersey, I came across an article that was written back in November of 2013 by our friends over at the SBNation Battle for California hockey page.  This article showcased their brand/logo change from their ownership with Disney, to the ownership with the Samueli family and how they felt each of the designs looked.
With the University of Illinois athletic program recently re-branding their logo and uniforms, I figured it wouldn't hurt to kick off our newest off-season thread with a Worst-to-First ranking of our basketball jerseys in the last 30 years.
6) 2014-2015 Grey Alternate Jersey
The beautiful thing about Illinois, is that they don't have a vast collection of alternate uniforms.  Having a limited logo and brand profile has always been (in my opinion) the best thing about our look because we NEVER have been caught designing something as silly as candy cane designs or funky colored alternate jerseys...until now.
Grey jerseys seem to be the norm nowadays with Nike school, and I am not someone that thinks we should include a Grey jersey in our basketball line just because football did it.  Football has the argument of the Galloping Ghost theme, and THAT is something I CAN support with it's relationship to the history of our program.  But grey basketball jerseys for the sake of having Grey basketball jerseys are an easy way out of designing a proper alternate option.
They are not bad looking jerseys, but it certainly is safe to say I was expecting more when they presented the idea of a new alternate jersey.
Jersey Recommendation: #3 Ahmad Starks
It really is fitting that you would buy a #3 Grey jersey with Starks' name on the back.  Both the jersey and the player were new to the program this season, and both brought good and bad aspects to the team this year (Abrams-esque shot choices and a 1-3 record round out the bad, and some occasional hot streaks and nice design ideas bring out the good).
5) 2006-2008 White and Blue Jerseys
Coming off two rock solid season of Illinois basketball, the 2006-2008 teams belonged to Warren Carter, Brian Randle, and Shaun Pruitt.  Trying to establish an identity after the 04-05 and 05-06 NCAA teams, DIA threw together some new color schemes to the jersey numbering and lettering to try and brand the "next generation" of Illinois basketball.  A 39-31 record with one NCAA bid later, the team ditched the idea and began looking into newer and more improved uniforms.  The only thing that makes these #5 on this list is the color scheme, everything else isn't too shabby (especially those blue jerseys).
Jersey Recommendations: #42 Brian Randle -or- #41 Warren Carter
Brian Randle was probably the only Illini to make a splash in the pros at the power forward position.  He currently plays in Israel, but many fans wonder "what-if" when it comes to his career.  As Illini though, both Carter and Randle were beloved and fans today still can't help to clap along to the "War-ren Car-ter" chant that once rang through Assembly Hall/SFC.
4) 2009-2013 Orange, White, and Blue Jerseys
This is the part of the program where we get oddly specific and picky.  Nike's newest addition to basketball jerseys were the school specific designs on the back of basketball uniforms.  For those with poor eyesight, Foellinger Hall was the landmark found on Illini jerseys, and people went crazy (myself included).  This idea was a very cool way to make each jersey custom to the school it represented, and really was one of the better ideas Nike has come up with.  The only part about these jerseys that were a little annoying was that each one featured a multi-colored "Illinois" or "Illini" across the front.  While it's not a bad idea to add that into one or two jersey options, all three was a bit overkill in my opinion.
Jersey Recommendation: #32 Demetri McCamey -or- #13 Jeff Jordan -or- #3 Brandon Paul -or- #1 D.J. Richardson
McCamey is yet another point guard at Illinois that was good, but never reached the status of "great."  Still, he has his fair amount of clutch games and game winning shots that will forever be remembered by Illini fans.  But how cool would it be to have an Illini jersey that says "Jordan" on the back?  Though his time with the Illini was brief, Jeff Jordan was the Chester Frazier of the Illini from 2008-2010 as he specialized in defensive execution.  His play was what defined a style of point guard that Illinois has seemed to draw year in, and year out.  But then there's BP3, and how could you not go with a guy that put up 43 points against a ranked Ohio State at home? (Good for 3rd all time at Illinois in one game)  There's also D.J. Richardson, who played with Paul in what was called "The best freshman backcourt NOT at Kentucky."  Richardson and Paul helped bring the Illini to 2 NCAA Tournaments in their time in C-U, and both would be GREAT players to feature on a jersey.
3) 2014-2015 Orange, White, and Blue Jerseys
Honestly, numbers 3 and 4 on this list could be flip flopped or tied.  In terms of re-branding, it was a necessary procedure that was appropriately announced in the beginning of the "basketball renaissance" at Illinois.  The new-look uniforms are really quite sharp and will continue to look great in years to come.  However, if the Illini want to make these jersey's memorable, they will need to produce on the court.  That's what makes #2 and #1 so great (we'll get to that in a minute).
Overall, the color scheme with all three jerseys provides a nice opportunity for the team to sport looks in many different environments.  I will say that the shield is in an odd spot, and sometimes isn't even seen if the guys wear their shorts like Kendrick Nunn.  With the addition of that new logo (like it or not...), it would've been better if the designers featured it on different parts of the jerseys AND shorts.  That way, it showcases the logo as a 3rd/alternate logo that could be used when designing special jerseys.
As you've probably already read in #6, the gray jerseys aren't my cup of tea.  BUT, there is one thing I do like about them that I wish made it's way to the regular jerseys.  The striping on the gray's are vertical, while the regular jerseys feature a zig-zag pattern that some people associate with a certain Chief Illiniwek.  While the zig-zag pattern is kind of a neat idea to use on some uniforms (just like the multi-colored names), it's over-used.  I would have liked to see that vertical striping be our primary look, with the zig-zag as an alternate option (potentially one for our gray look to add more school colors to it...just saying).
Jersey Recommendations: #21 Malcolm Hill
The future is now.  If you're looking for someone to represent with a new uniform, go with Malcolm Hill.  Right now, he's our best option to take over a leadership role next season.  Mind you, if Kendrick Nunn steps up, he is also a solid choice.  But from what we saw last season, Hill is going to be our guy in 2015-2016.
2) 2000-2006 Orange, White, and Blue Jerseys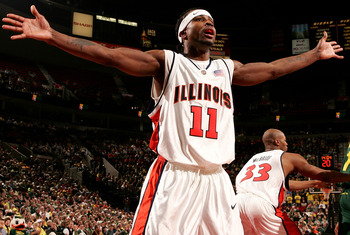 "People remember champions.  That's the way it is." - Joakim Noah
That quote says it all really.  Players that most fans remember from recent memory are Frank Williams, Corey Bradford, Brian Cook, Dee Brown, Deron Williams, Roger Powell Jr, James Augustine, and Luther Head.  What do all of these players have in common?  Every single one has a Big Ten Championship/Big Ten Tournament win to their name.  A quick glance at the resume of this jersey design:
- Big Ten Tournament Championships = 2
- Illini All Century Team Honorees = 2
- Big Ten Championships = 4
- Honored Jerseys in SFC = 5
- NCAA Tournament Wins = 15
Throw in the fact that these uni's are simplistic, vertical, and don't have any crazy color schemes, and we're looking at a solid #2 pick.  There's only one jersey that stands out ahead of these (and I'm sure you can guess which ones...)
Jersey Recommendation: *See list of players above*
The only one I WOULDN'T go with off the list from the 2000-2006 rosters would be Frank Williams, as he's recently gotten into trouble with the law for use of illegal drugs/his lack luster showing for the Knicks and Bulls after being drafted in the first round.  Other than that...any of those guys are a great choice.
1) 1988-1989/"Throwback" Jerseys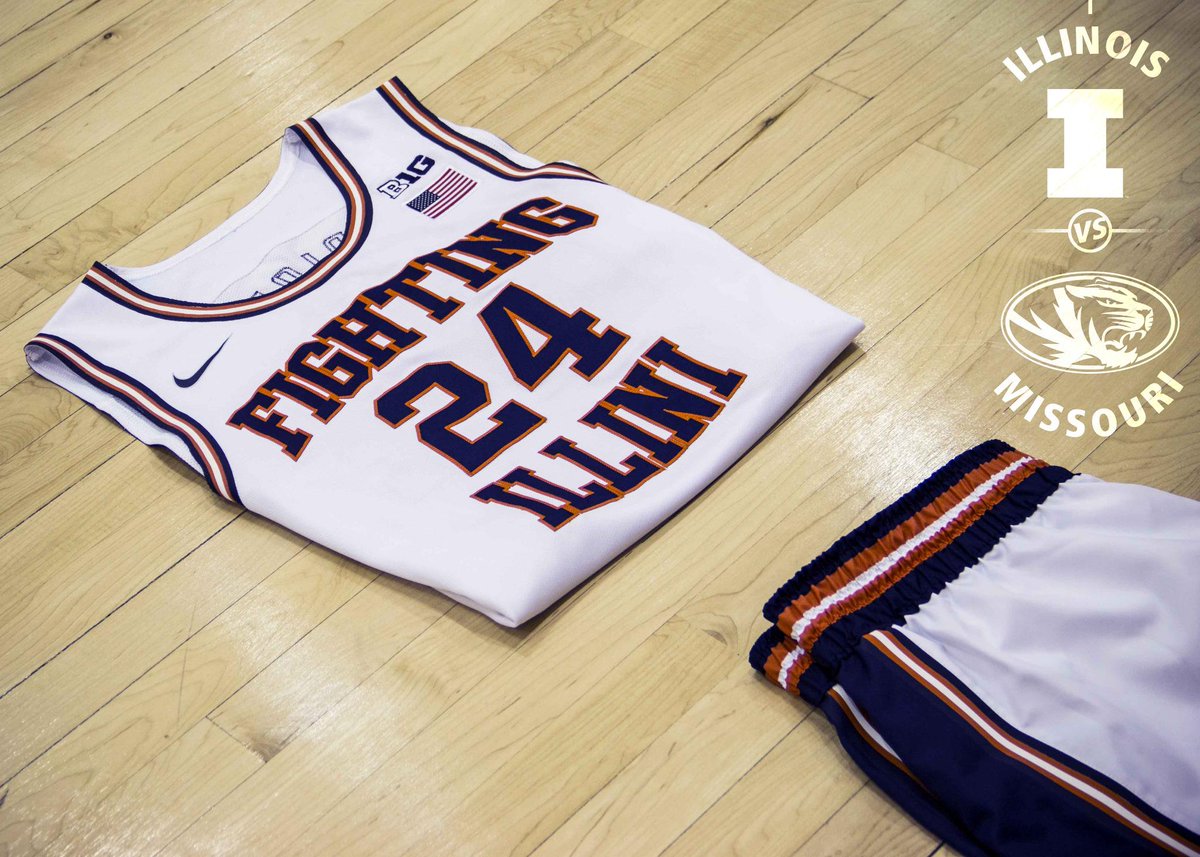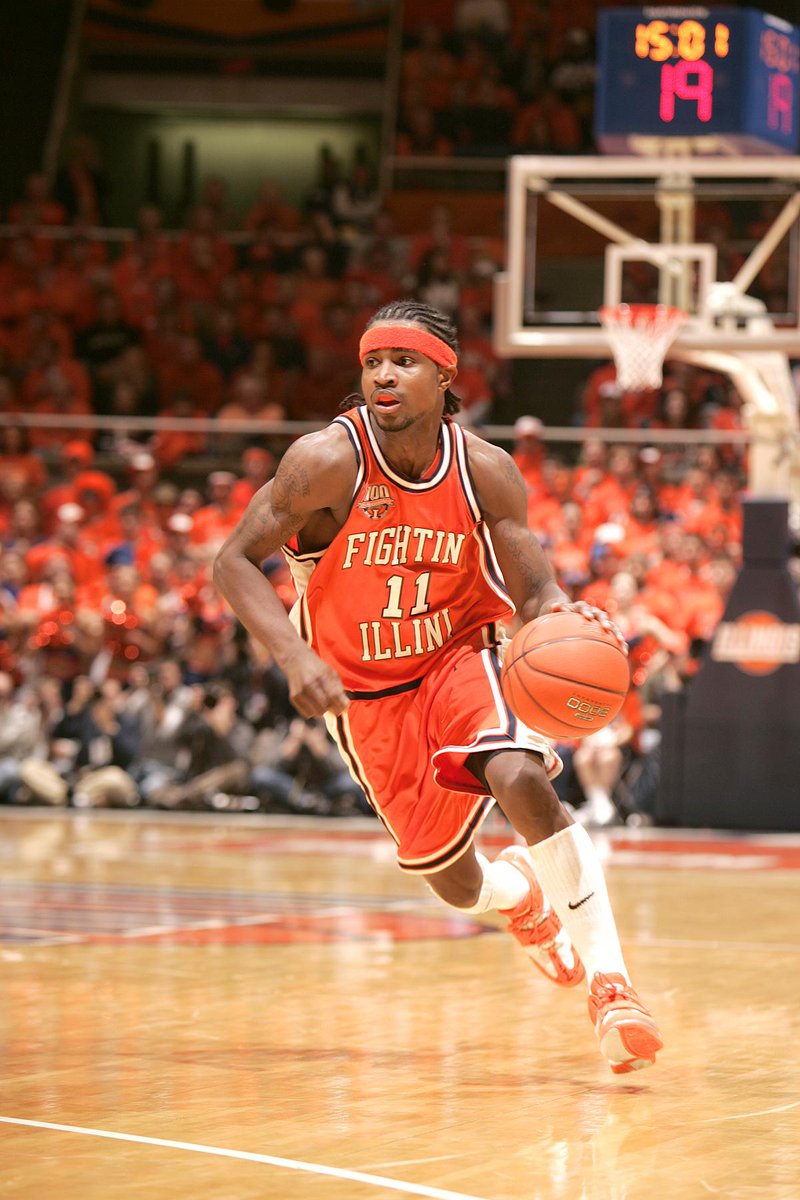 Shocking.  I know.
There's a reason why DIA has "thrown-back" these jerseys for the last 10 years.  It's a classic look, with no crazy color designs or zig-zags that take away from the core design of the jersey.  Of course, the 1989 Flyin' Illini uniforms feature the Chief on the shorts, so you can't use that logo anymore.  BUT, I can think of a certain shield that we've recently designed that would look GREAT in the absence of the Chief logo.  However, the "Block I" logo works just fine in it's place.
Same rule applies with winning championships and being remembered.  People associate these jerseys with winning (see the Braggin' Rights buzzer beater this season), and they will forever be idolized with the 2000-2006 look as the best teams this program has ever seen.  Let's just hope we can turn the ship around to find future success in Champaign-Urbana.
Jersey Recommendations: Here's a link to the '88-89 roster...take your pick!
----------
Tell us what uniforms you think deserve to be worst or first in the comments below!