Surprise, surprise, surprise, surprise, surprise.
Instead of the long, drawn out, going-the-distance recruiting trail, Charles Matthews (2015, 5-star SG) will decide tomorrow. His top five is Illinois, Kentucky, Kansas, Marquette and Michigan State.
That list is straight from the source.
Illinois, Kansas, Kentucky, Michigan St, and Marquette was the final 5

— Charles Matthews (@CMATT_4) February 25, 2014
Matthews, 6-foot-6, 180 lbs, is a long, versatile combo guard who plays the wing and the baseline. His shooting ability needs to develop, but his defense is excellent. He's smooth as can be getting to the rim. Here are some GIFs.
Mmmmm
Mmm hmmm
Get 'em, Chuck.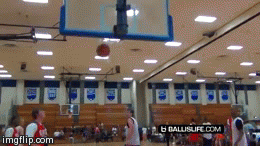 (highlights courtesy of Ball is Life)
Matthews' statistics this year have lagged, especially considering his top 20 status, but for much of the year, he was injured. Since returning, his numbers haven't been up to snuff. And as a result, his ranking may ultimately fall.
Nearly the exact same thing happened last year to Jabari Parker. (His ranking didn't slip, but his scouting reports did.) And if you're getting picky about such a thing, then you must be forgetting that this would be Illinois' highest ranked recruit in a very long time.
The 24/7 Crystal Ball currently leans with Kentucky over Illinois, 90 percent to 10 percent. None of the other three finalists--Michigan State, Marquette, and Kansas--have any predictions going their way, due in large part to the lull in recruiting season. No one expected Matthews to decide now, in the midst of the high school stretch run. Now that he's announced his announcement, expect more predictions to come out tonight and tomorrow morning.
So, does Illinois have a chance?
Yes. Matthews is from Chicago, which should give Illinois some advantage, maybe. But the prestige and current status of Kentucky washes that sentiment away.
What matters more, however, is Matthews' relationship to current Illini commit, D.J. Williams. According to the Chicago Tribune, Kendrick Nunn and Jaylon Tate played a big role in recruiting their Simeon teammate Williams to Illinois. Williams then recognized his role as a recruiter. And Charles Matthews is a close friend.
"He is like my brother," Williams said. "We grew up playing basketball together and have been close ever since."
As for the other suitors, it's a mixed bag. Kentucky hasn't been in to see him recently, but a recruit has to grab a potential Kentucky scholly fast. Kansas assistant coach/sudden Illinois nemesis Jerrance Howard saw one of his games in the past month or so. Somehow, I could see Marquette pulling a sneak attack. And Izzo is always dangerous.
We find out tomorrow. Happy recruiting trails everyone.
*********
UPDATE
The announcement will be Wednesday morning.
Making my announcement Wednesday at 8:30am St Rita High School

— Charles Matthews (@CMATT_4) February 25, 2014